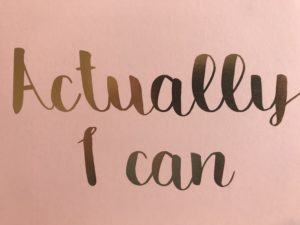 Brave words don't you think, especially in the current climate.  However, if we stop a moment and think about all the positives and successful business stories of the past few months, it's actually a lovely testament to how many businesses have kept strong and even flourished in what has been and continues to be a very uncertain time.
Personally, I'm very grateful and proud to have come through these times wiser and stronger, like many I worked hard to adapt, be flexible and try new markets and new ways to work. It wasn't always easy and there were times when there were tears and frustrations, but it has also allowed me to grow, learn and challenge myself.  Now I'm not suggesting for one moment that it was possible for all, and I know that COVID-19 has caused a great deal of trauma and suffering, but as we start to poke our noses out once more, I feel it's really important to think about the good and what we have all potentially gained and achieved.
It seems that the business community has become even more supportive over the past few months and whilst we hear of mass redundancies and job losses, we also meet new entrepreneurs and those who given the set of circumstances they found themselves in, are now able to readjust their work/life balance for the better.
From a marketing perspective, the landscape is exploding, with more consumers buying into digital than ever before and the online world becoming our every day go to.  So, if you are keen to continue to grow or put yourself back on the map here are just a few areas that I could help with:
Write a new marketing plan! Doesn't have to be big or extensive, but having a plan will keep you focused and on track with what you believe in and help to you to make the decisions that are right for your business.
Reassess your target audience .. Are they still who you think they are? Perhaps re-evaluate them by drawing up a customer persona so that your messages hit the right spot for the right people.
Define your value proposition – what makes your business tick and how does this set you apart from your competitors? How can you tell your brand story?
Write good copy .. the marketplace is overloaded and hectic. Your messages, whichever channel you choose, need to be targeted, optimised and relevant
Learn something new! New skills are great confidence boosters and an online bespoke training session might be just the thing.
Keen to find out more? Let's chat and see how we can move forwards, together 😊